A visit to York's Chocolate Story is perfect for groups of all ages and sizes. We offer an entertaining and informative guided tour through the history of York's most famous chocolate-making families and their finest creations. You'll discover chocolate's origins, how to make it, how to taste it like an expert and even the sustainable future of chocolate.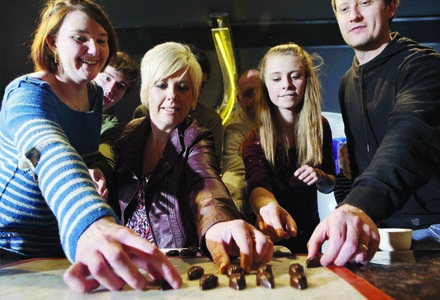 You'll also uncover a host of surprising secrets and fascinating facts behind York's greatest chocolate products, from the Chocolate Orange to the globally famous KitKat. Once you've explored chocolate making and its history, you can even shop for and indulge in chocolate to your heart's content. There's so much for you to enjoy and discover at York's Chocolate Story in the UK's home of chocolate!
The tour lasts approximately one hour and is the perfect addition to a day out in the historic city of York.
Group Benefits
We are delighted to offer groups of 15 or more the following special benefits:
    Discounted admission prices
    Priority admission
    Free familiarisation visits for the group organisers
    Free admission for the group organiser and coach driver
    Complimentary refreshments for the coach driver
    Chocolate Bar (pre-book before the date of your visit)
    Itinerary ideas and coach parking advice
To make a booking please contact us directly by emailing groups@continuumattractions.com or telephoning 01904 261262, you can also use our online booking form to make a reservation.